Wilding for Conservation
In a short space of time rewilding has grown to become a powerful force in conservation. The idea of giving nature the freedom and space to forge its own path is not just inspiring, but also raises deeper questions about our relationship with the natural world and how best to serve wildlife and ecosystems through a period of enormous challenge for conservation. Accompanying this new interest, though, is uncertainty – over where and how rewilding should be applied, how it fits with traditional approaches to habitat management, what it can offer for the numerous species struggling to survive in the British countryside, and even what rewilding is.

With momentum only set to build, discussion of the direction of travel, and opportunities and challenges for rewilding remains as important as ever. The 'Wilding for Conservation' series, launched in British Wildlife at the start of 2021, aims to provide a forum for that discussion, and to share a range of perspectives on the role of rewilding in the future recovery of our fauna and flora. To date there have been 12 pieces published in the series, with more set to appear through the remainder of 2023 and beyond. Here we provide a compilation of all articles published so far – digital subscribers can explore the series by following the links below.
Editorial: Letting nature take back control
By Rob Fuller and Guy Freeman
32.4 February 2021
Series Editor Rob Fuller and BW Editor Guy Freeman launch Wilding for Conservation with an editorial that looks back at the magazine's earlier contributions to the rewilding debate and sets out the aims for the series. An appendix of older articles of relevance to rewilding can be found here.
1. Rewilding: time to get down off the fence?
By Steve Carver and Ian Convery
32.4 February 2021
A walk through the history and evolving definitions of rewilding and a plea for a wilder and more ambitious future for conservation in Britain – with fewer fences.
2. Rewilding and intervention: complementary philosophies for nature conservation in Britain
By Rob Fuller and James Gilroy
32.4 February 2021
An exploration of how rewilding and intervention might be deployed in combination to produce the best possible results for wildlife in Britain.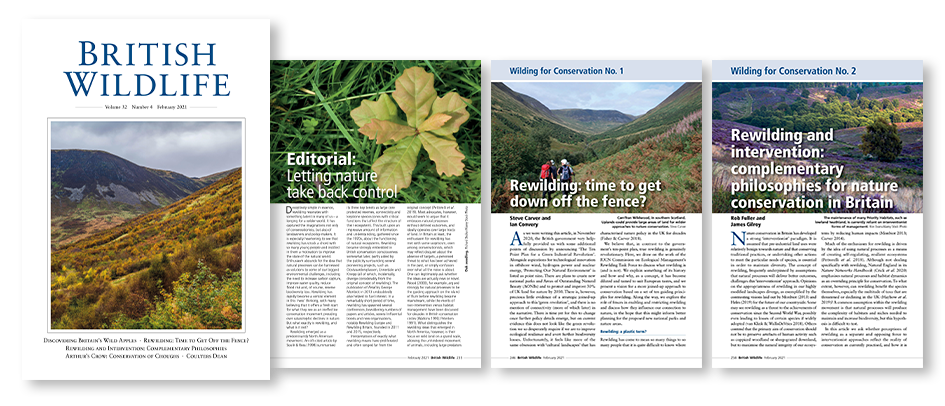 3. Rewilding and environmental economics
By Jonathan Spencer
32.4 February 2021
An exploration of how rewilding and intervention might be deployed in combination to produce the best possible results for wildlife in Britain.
4. European strict forest reserves as a form of passive rewilding
By Keith Kirby
32.7 June 2021
What lessons can British conservation take from the ancient and unmanaged Strict Forest Reserves of Continental Europe?
5. Comment: What if Wolves don't change rivers, or the Lynx lacks bite? Rethinking a rewilding orthodoxy
By Hugh Webster
33.2 November 2021
Reintroduction of apex carnivores is often touted as a silver-bullet solution to various environmental problems, but the evidence for ecosystem-level impacts of large predators is not quite so clear cut.
6. A kaleidoscope of approaches to rewilding in Britain
By Sara King and Emma Oldham
33.3 December 2021
The UK's first rewilding charity, Rewilding Britain, presents a selection of case studies of projects currently experimenting with wilder approaches to conservation in Britain.
7. Comment: Rewilding: a landscape-history perspective
By Tom Williamson
33.6 May 2022
The practical and philosophical limitations of rewilding and the conundrum it poses for conservation of the distinct assemblages of cultural, managed landscapes.

8. Can wildwoods help us avert climate disaster?
By Ellie Crane
33.7 June 2022
Could wilder approaches to woodland management and creation of new wildwoods play a role in the battle against climate change?
9. Comment: A long-term perspective on rewilding woodland
By George Peterken
33.8 August 2022
Observations from Britain's best known 'wild' woodland, Lady Park Wood, and the significance of these for new woodland rewilding projects.